Our mission
In spring of 2022 the Government will decide whether to allocate money for a much-needed new acute specialist hospital in East Kent. If it does, those who live in this part of Kent will be asked to choose: should the new hospital be in Ashford (Option 1) or in Canterbury (Option 2).
Our mission is to promote the advantages for all the people of East Kent of a new acute, specialist hospital in Canterbury.
To that end we will provide an effective channel of communication that will give the people of East Kent access to the facts of healthcare in our area, and to the reasoning that underpins the selection of the two options for the location of the main specialist hospital.
Read our mission statement in full >>>
---
What are the two options?
OPTION 1:  William Harvey Hospital (WHH) - Development of this hospital with all the specialist facilities based on this site, to cover the whole of East Kent and beyond whilst retaining non-specialist hospital services at Queen Elizabeth, the Queen Mother (QEQM) and the Kent and Canterbury (K&C)


OPTION 2: New hospital to be built next to the existing K&C Hospital, having direct access off the A2, with all specialist services based on one site, covering the whole of East Kent and beyond. Retention of non-specialist hospital services at the WHH and the QEQM.
For a more complete view of these two options, please
download the NHS presentation
---
Do you have questions?
Have a look at
out FAQ page
. If your question is not answered there, please let us know.
---
Latest News
15 Feb 2022
Good News – Stroke Services
Since April 2020, stroke services in East Kent were transferred from the William Harvey and QEQM Hospitals to the Kent and Canterbury. Since then, in every quarter, the Canterbury stroke service has performed at a level equal or better than the national benchmark on all counts. These include: the % of patients scanned within one hour, and % of patients assessed by a stroke specialist consultant physician within 24 hours.
Well done the K and C!
---
11 Feb 2022
New Buildings at East Kent Hospitals
People have asked us about the new building work which has been going on recently at all three main hospitals in East Kent. They have queried whether this means that the bid for £460 million for a new major acute hospital for East Kent is just 'smoke and mirrors' and this building work is all we are going to get.
We put this to the East Kent Hospital Trust. They state emphatically that the local NHS Partnership bid for £460 million for a single new acute hospital IS being considered by the Government. The bidding is for money from a fund made available for 8 new hospitals. The money for the buildings which people see going up at present has come from separate pots of investment funding previously made available by the Department of Health."
EKHUFT say: "It will take some years before either option (for a new hospital) is fully implemented, given the extensive improvement works required in either option. Given this, it is right that we continue to invest to improve and develop services for local people now, and we are making improvements at all three of our major hospital sites."
Examples of this work are:
Emergency departments at William Harvey and QEQM hospitals are being expanded
A new critical care unit is being built at William Harvey
Four new operating theatres opened at the Kent and Canterbury
In addition to this, a new diagnostic hub is being set up at Buckland Hospital, Dover, offering CT scans to thousands of people each year.
EKHUFT go on to say: "None of these investments affect the viability of our two options, nor will be wasted, as all three of our hospitals are critical for delivering East Kent's hospital services in the future."
However, we will continue to keep a very close eye on this in the future.
---
8 Feb 2022
Letter from Option2 Chairman to Sajid Javid
Primarily sent in response to NHS East Kent's request that we support the bid for £460m
Dear Secretary of State,
EAST KENT NHS TRANSFORMATION PROGRAMME
We are writing to you in support of the case being made by the Kent and Medway Clinical Commissioning Group and the East Kent Hospitals Trust for funding of a major new acute hospital in East Kent.
The Option Two Group was formed four years ago by retired senior NHS staff and former local councillors to promote the option of locating such a new hospital, if it receives funding, in Canterbury. However, our primary aim here is to seek to persuade you that East Kent urgently needs this new hospital, regardless of eventual location.
For twenty years now East Kent has been suffering from the decision of the then NHS central body in England to continue providing acute specialist hospital services from three sites. All three hospitals are ageing, 78% of their buildings do not meet modern standards of healthcare and backlog maintenance requirements are a serious drain on their budgets. More than 1,200 inpatients continue to be transferred between the three hospitals. Only 9 out of the 36 'expected' national clinical standards are likely to be met in the future. Given the situation it is not surprising that it is difficult to recruit high-quality clinical and nursing staff. Therefore, the hospital trust has to hire locums - and the cost of this, plus the high maintenance costs, plus the cost of patient transport, make it impossible for the trust to keep within its budget. More tragically it has led to avoidable baby deaths.
What is urgently needed in East Kent is a 'smart' hospital service; a state-of-the -art new hospital, containing all the major acute services under one roof, but linked closely with the other hospitals via IT.
Four years ago, members of our Group gained an audience with your predecessor, Jeremy Hunt, and we believed that he took pains to understand the situation in East Kent. When you come to make the decision about which areas are going to be awarded the funding to build new hospitals, we hope you will have regard to the particular problems facing hospital care in East Kent.
Yours sincerely,
MARTIN VYE, Chair, The Option Two Group
---
8 Feb 2022
Decision Time
The decision whether or not to fund the much-needed acute specialist hospital for east Kent will be made this spring, Option Two Group has been told. The local NHS Partnership is waiting to hear whether their bid for the £460 million needed to build the hospital is successful.
We have seen the case for East Kent to receive the funding and it is powerful. The East Kent Hospital Trust says that it is vital that acute services, like vascular and specialist cancer surgery, treatment for trauma, stroke, and heart attacks, and others are concentrated in one site in east Kent. "Currently" they say "these services are spread across multiple hospital sites ..and consequently we have not been able to provide the high standard of care that we want for all patients". They also point to the state of the hospital buildings: "we are also trying to provide services from hospital buildings that are not fit for delivering modern healthcare and have reached the end of their useful life.".
The Government is providing money just for 8 new hospitals in England, and there will be many areas competing for it. However, the local NHS Partnership says "Our clinical community agrees that the current situation is untenable, and that no change is not an option."
Our Group, of course, wants to see that new hospital built here in Canterbury. We think that this is the obvious location, as it is right in the centre of East Kent, with good road and rail connections. If the Government provides the funding, we will campaign hard for it to be built in Canterbury. However, that is a decision for the future. At the moment the main aim must be to persuade the Government that East Kent desperately needs this new hospital, regardless of where it will eventually be placed. That is why Option Two Group has written to Sajid Javid, the Secretary of State for Health, in strong support of the local NHS Partnership's bid . We urge local people to do the same, and also to ask their MP whether they are doing all they can to make sure we in East Kent get the best possible acute hospital care.
---
9 Mar 2021
What is happening to East Kent's Health Services?

They are responding to the NHS's Long Term Plan! The NHS Long Term Plan was published in January 2019, and outlined a new system for how to plan and deliver local health and social care services. At the East Kent joint committee's meeting in Ashford on 9 May 2019 the committee published a paper outlining the plans for the new structure. This is a slightly modified version of that original document.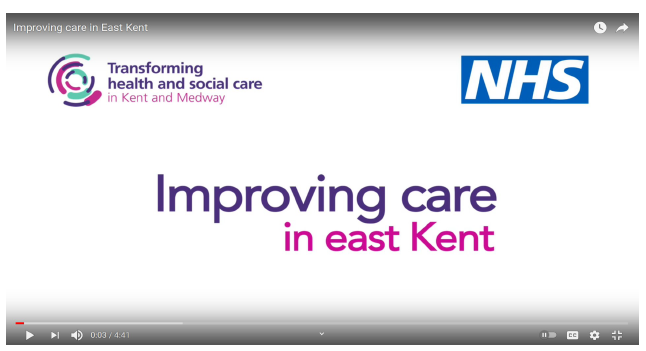 The work of the joint committee of the four former clinical commissioning groups in east Kent (NHS Ashford CCG, NHS Canterbury and Coastal CCG, NHS South Kent Coast CCG, and NHS Thanet CCG) is now being taken forward by the NHS Kent and Medway Clinical Commissioning Group, which was created by merging the eight former CCGs across the county on 1 April 2020. The video released in the Autumn of 2019 sets the scene for the current changes.
The interim East Kent Integrated Care Partnership and commissioners continue to work with East Kent Hospitals University NHS Foundation Trust to develop the hospital service proposals and are now seeking the approval of NHSE/I and support from government, before a final consultation can take place later this year.
Active changes for improving the local health and care services across east Kent are progressing well. The changes are occurring at different rates within the newly grouped GP based Primary Care Networks for various and different reasons. However, they are all working toward meeting the demands of the NHS Long Term Plan. This provides a model for providing effective care as locally as possible and designed to support people stay in their own home where practical.
The new care structure has three levels, GP based primary care networks (PCNs), geographically based integrated care partnerships (ICPs) which sit within the overall integrated care system (ICS). The managers are working towards establishing this Kent and Medway ICS by April 2021.
Primary care networks (PCNs) are now based around groups of neighbouring GP practices, serving populations of between 30,000 to 50,000 people. They are working to provide community, social care and primary care services and will help GPs and other healthcare professionals manage their workloads, enhance clinical capacity and capability, and help attract and retain staff. They are working to make sure the needs, knowledge and voices of local people are reflected in how healthcare services are planned and delivered.
Integrated care partnerships (ICPs) covering: west Kent; Dartford, Gravesham and Swanley; Medway and Swale have been formed, in line with the Sustainability and Transformation Plan. The east Kent ICP is still being developed but in part is dependent on the final outcome of the hospital development. Each ICP includes commissioning and provider organisations working together to develop and deliver services that offer seamless health and care to local people. They will play a key role in health improvement services, reducing health inequalities and designing services that meet patients' needs, best practice standards, and deliver care within a defined budget.
Integrated Care Systems (ICS)
The ICS will build on the foundations of the Kent and Medway Sustainability and Transformation Partnership (STPs) formed in late 2019. This brings together local health and care organisations giving a mechanism to support and encourage work across organisational boundaries, redesign care in a holistic way and improve population health through shared leadership, responsibility and action. As part of establishing the ICS the Partnership developed proposals for a single clinical commissioning group covering the whole of Kent and Medway. This transition is nearing completion and confirmation by the NHSE
Many of the new ways of working are already in place. The new models of working aim to break down barriers even further and work more effectively together to deliver better services and better health and care outcomes for local people. A further video produced in 2017 that describes the changes proposed then and being developed now: click here to open video
---
22 Feb 2021
The Healthcare Services We Need And Want
We are all thinking of hospitals at the moment - as we think of Covid. There will be a future, though, beyond the pandemic and we need to be thinking about precisely what sort of hospital, and what sort of healthcare, we will need and want in the future.
This is how I see the hospital model that would give all of us the best healthcare:
First, we need one major specialist hospital in the centre of East Kent. A top-class multi-specialist hospital in which those of us suffering from acute, life threatening conditions such as stroke, heart and respiratory problems, and including complications in childbirth, can receive the best possible treatment from top-class consultants and highly trained specialist nurses and therapists.
Second, at the Ashford and Thanet hospitals, as well as at Canterbury, the services that most of us go to hospital for: urgent treatment to deal with broken bones, for example; routine medical and surgical conditions; diagnosis of the condition we are suffering from and especially, maternity services. These services need to be close to our homes.
Third, a GP service that is fully integrated with hospitals. This has already begun to happen, but it needs to be developed with much more urgency. It means consultants coming out from hospital to hold surgeries in GP practices. It means GPs themselves training up in specific specialisms so that they can provide a faster, more local diagnosis and treatment. This will reduce waiting times to see a consultant when really necessary.
And fourth, a state-of-the-art IT system that enables medical staff to confer with each other instantaneously, between hospitals or between GP practices and consultants, or between paramedics and specialist hospital, all to get speedier diagnosis and/or direction to the right treatment.
The current changes in GP practices can be worrying to those of us who are older. We have been used to having one doctor to whom we refer every health problem we encounter. Currently GPs are in short supply, but they are also working differently. The system is changing - and can work very well. For example, I was worried by evidence of a carcinoma on my face. I rang the Health Centre. Two hours later someone rang me and asked me to send a photograph. I did that and within two days I had a referral to Dermatology at Kent and Canterbury. But, of course, many of us will be uncomfortable with any change at first, until we have seen that the new way really works. Thought has been given to how people receive help in navigating the system. If you are unsure, ask to speak to the "care navigator" in the practice or else the practice manager - they are there to help.
So - this is my vision for the future. What do you think? In many ways this is what the NHS is working to introduce, but where should that specialist hospital be?
Your thoughts and discussions are most welcome....
---
18 Feb 2021
Option 2 4 U Group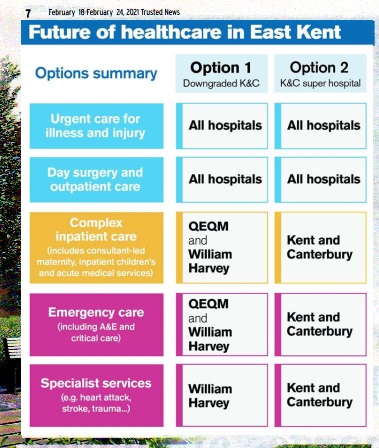 The Option Summary published in the Kentish Gazette this week shows exactly why our Group is called Option 2 4 U. It sets out clearly the two options available for the public to consider when the Consultation takes place, hopefully, this year.
Option 2 shows that Specialist Services and Complex Inpatient Care will be available at the new Kent & Canterbury Hospital and that all three East Kent Hospitals will offer Emergency Care (including A&E and critical care).
Our thanks to Peggy Pryer, our Secretary, for setting out our aims to the press and for ensuring our Option 2 4 U Group is recognised as a serious, informed campaign group. It is also encouraging to note that the proposal for a new hospital in Canterbury is supported by our local MP and medical practitioners.
---
27 Mar 2020
Meeting With Rosie Duffield MP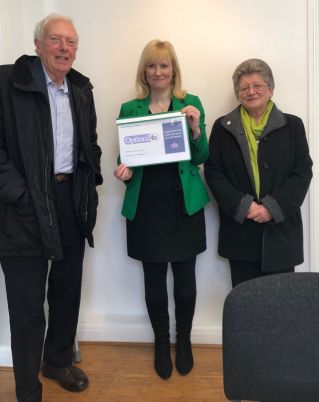 The chair and secretary of Option2 Group met with our Canterbury MP on the 12th March 2020. We explained to her that the Option2 in our title refers to the second option for the location of a new main specialist acute hospital for the whole of East Kent. Option 2 would put this newly-built hospital right next door to the present Kent and Canterbury. We said to Rosie that we believe this is the best option, for the people of Canterbury and for the whole of East Kent. However, while we actively promote this, we wanted to make sure local people know the facts when the NHS goes out to public consultation and asks people what they think..
Rosie listened carefully. She is clearly well-informed about the state of healthcare in Canterbury and East Kent. She has actively supported the setting-up of a public inquiry into the recently disclosed spate of neo-natal deaths in East Kent hospitals.
Our secretary Peggy Pryer, a former member of the nursing profession who practised in various areas of East Kent, remains in contact with many of today's front-line local nurses through her continued membership of the East Kent Branch of the Royal College of Nursing. She briefed Rosie about the effects the staffing crisis in our local hospitals is having on both staff and patients.
At the end of the meeting Rosie asked us to join her in a photo call, during which she expressed her support for the community outreach we are doing.
OptionTwo4 U welcome the engagement of both our local MPs and the City Council.
---
12 Feb 2020
MP Rosie Duffield backs a new hospital in Canterbury
The Canterbury MP claimed that a baby death scandal in east Kent could have been avoided if a new hospital was up and running in Canterbury. For more information, see the
Kentish Gazette Article
---
8 Jan 2020
Canterbury City Council Unanimously Backs Option 2
At the Full Council meeting on 8th January, Cllr Jones-Roberts proposed a motion that
"This council commits to use its best endeavours to support the construction of a new hospital in Canterbury, with the provision of all the services and employment opportunities residents expect and deserve, and to aid, wherever possible, those groups, organisations and individuals who are working to achieve this aim."
Cllr Eden-Green added an amendment recognising the groups involved in this and the motion was unanimously backed.
---